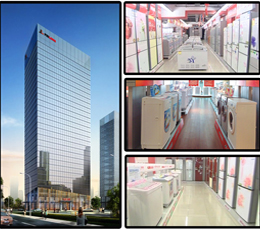 --China Feilong Home Appliance Group Co.,LTD (formally known as Cixi Feilong Electric Appliance Co.,LTD) is located in the well renowned city of Cixi made famous for being the starting place of the worlds largest cross--sea bridge amply named the Hangzhou Gulf. The local industrial area has eagerly earned its fabulous reputation and has such been nicknamed "The Kingdom of electrical appliances" in which, Feilong is at the centre of because we produce a chain of household appliances finely moulded, well shaped and produces essential quality products and is the most competitive giant for its well-developed commerce and trade within the area due to its solid focus on customer service and after care.
First established in 1995, it very quickly shot like a storm through the Chinese market thanks to years of research and product quality as well as keeping our prices way below the competition for the same quality. Now it has deservedly emerged into the global market and has vast experience in knowing its customers and the different marketing cultures and is a comprehensive enterprise in researching, developing, manufacturing, marketing and importing & exporting. Throughout our market we are considered to be the brains and muscle of the Zhejiang electrical appliance industry thanks to our experience, knowledge, customer care and sky-rocketing sales figures.


The
company is specialized in manufacturing twin-tub washing machines, automatic washing machines, dryer
s, refrigerators and freezers as its leading products. It has more than 320 marketing agencies in nearly every major city and province in China and also owns a perfect and unified national after-sales service with plans being made to set up marketing and distribution agencies in Europe, America and Africa. The company currently covers 192 thousand square meters over several factories Now it has a staff of more than 2100, including over 300 management personnel & technical personnel. The company has a high-quality professional technical team and a strong technical force and a fantastic international sales department who can attend to any need. Moreover, it owns 53 100g-12000g
computer injection machines, 12 household appliances production line, and with its annual production capacity of 3,600,000 electrical appliances.


Through mergers and acquisitions, the company has absorbed many regional famous brands, such as Bingxiong and Ripu, and cooperate in various forms with other well-known brands in China, like TCL, Youtian, Media, and it has formed a collectivize, large scale, professional modern appliances group. The Feilong group has strode into the international market quickly and effectively.


Feilong always adheres to quality as the lifeblood of the enterprise, continuously and accurately improving its production management level, improving the quality of its products and perfecting its after-sales service system. The company all passed the ISO9000, ISO14000 and OHSAS18000 quality management system certifications and as well as its products passed the 3C authentication, CE and CB certificates. The company has been awarded "The national quality prestige AAA enterprise" in 2006-2007, "The Good faith demonstration brand in China" every year since 2003, "Zhejiang excellent quality and trustworthy brand" in 2008 and has won many many other provincial and national awards. Furthermore, "Feilong" impeller type twin-tub washing machine won an Inspection-Free product qualification, the highest award possible for a product in China; "Feilong" brand electric products has been awarded "China famous brand", "China's top ten famous best-selling brands", "Zhejiang famous quality products", "Customers vote for best branded products in consumer market" and got the title of "municipal government focus brand ".


The products of Feilong group sell well all over the world and Feilong is increasing its exports by 20% annually. Feilong products mainly export to southeast Asia, Middle East, Africa and is out-stretching its arms to Europe and America, its quality enjoying a high reputation among its celebrated international clients.


Feilong insists on "Customer service and after sales care as its primary goal and exceptional quality products that are the best value for money is its secondary goal." In order to achieve such high goals we attentively segment markets, design and build elaborate products, continuously introduce diverse products to meet the current demand of customers changing every time the market blows, and make efforts to provide tailor-made services to ensure that market trends are kept up to date. We focus solely on our goal of creating the greatest first-class enterprise. "Feilong - to serve every community in the world - Top quality for the best price."